Alfonso XIII. 1901-1931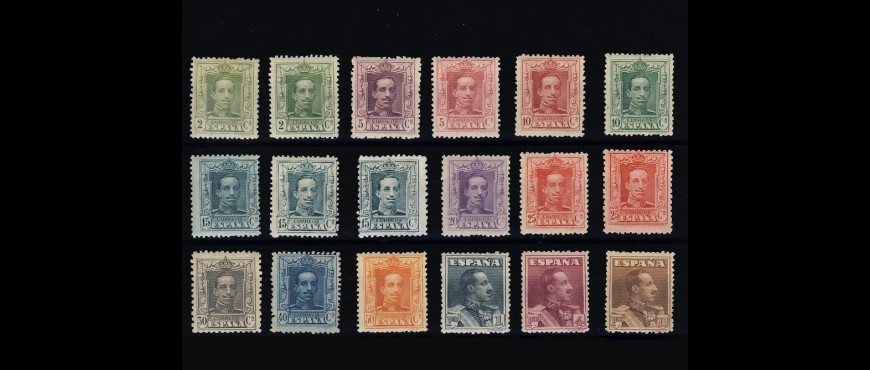 Complete sets of stamps issued by the spanish postage service from 1901 to 1931
On the death of Alfonso XII, Queen Maria Cristina was in charge of the Regency of her son, Alfonso XIII. This woman who showed prudence, knowledge and equity, often earned the respect of all. Never wanted to appear or in seals of post or in coins, or in another sign any of sovereignty, and that that magnificent artistic recorder that was don Bartolomé Maura you made various recorded, whose collection is today day a great curiosity in the Museum of the factory national of currency and ring.

The first series with the effigy of don Alfonso XIII is that of 1889 and the same head of the rey-nino would also include in the first coins. Then be replaced by another, similar between 1901 and 1905, known under the name of "the Cadet" as don Alfonso figure with this uniform. This series would have been programmed not only wearing the uniform of the army, since the mentioned don Bartolomé Maura, made the King at that time, another gorgeous engraved with the uniform of midshipman in the Navy.

In 1930, featured last series overall with the effigy of don Alfonso XIII, also with uniform of Captain General of the army, the issue that when on 14 April, she was proclaimed the Republic, so that the country does not remain without stamps for postage, gotten inventories at that date, of its nine rates, they were sogregargadas with the title "Spanish Republic" in two parallel lines.
There are 73 products.