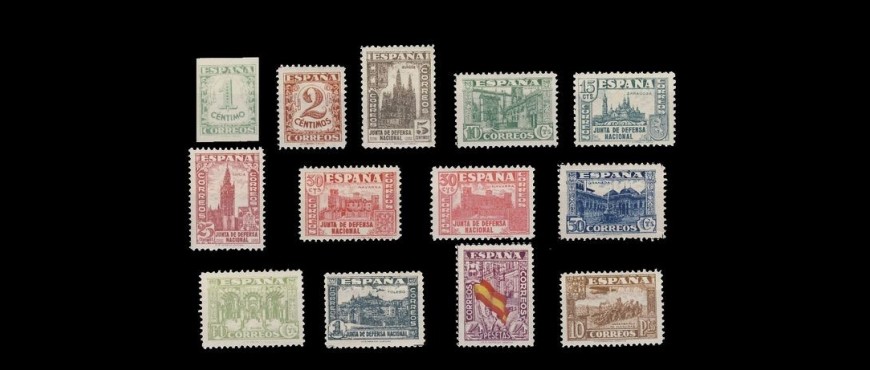 Spanish State. 1936-1949
Complete sets of stamps issued by the spanish postage service from 1936 to 1949
As in the early days of the national uprising, the city of Granada and a reduced environment was isolated at the end of stocks of stamps from 30 cents - was then the price of a single postage - the authorities set the realization of one of such value, printed, as all emergency on different kinds of paper and colors, as if chosen was blue There are two varieties in dark blue and green. In addition to being the first label of a new chapter of our postage sifnos, is that most of the employees were in correspondence conveyed by a qe aircraft in lazaba with the rest of the liberated zone. But the initial series of national Spain, was the started to run from September 1936, since as normal emission range of fees, from the 1 cent to the 10 pesetas, which was not excessive, as its circulation had led to between 1937 until 1940, it attaches a variety of values where there is to point out the reasons they all figurative - with the exception of two - since the Cid contained in each CID and other Queen Isabel la Católica.
Stamping systems used in these years are two: the hollow engraved - unicolor form first and then to full color - and the intaglio - base of one or two colors - but always of exceptional quality and method, it is increasingly less used in the world today.
Spanish State. 1936-1949
Sorry for the inconvenience.
Search again what you are looking for